Posted by Aaron Laurence on Jun 24th 2020
At Home Gym Builder's Guide: How To Build The Best Home Gym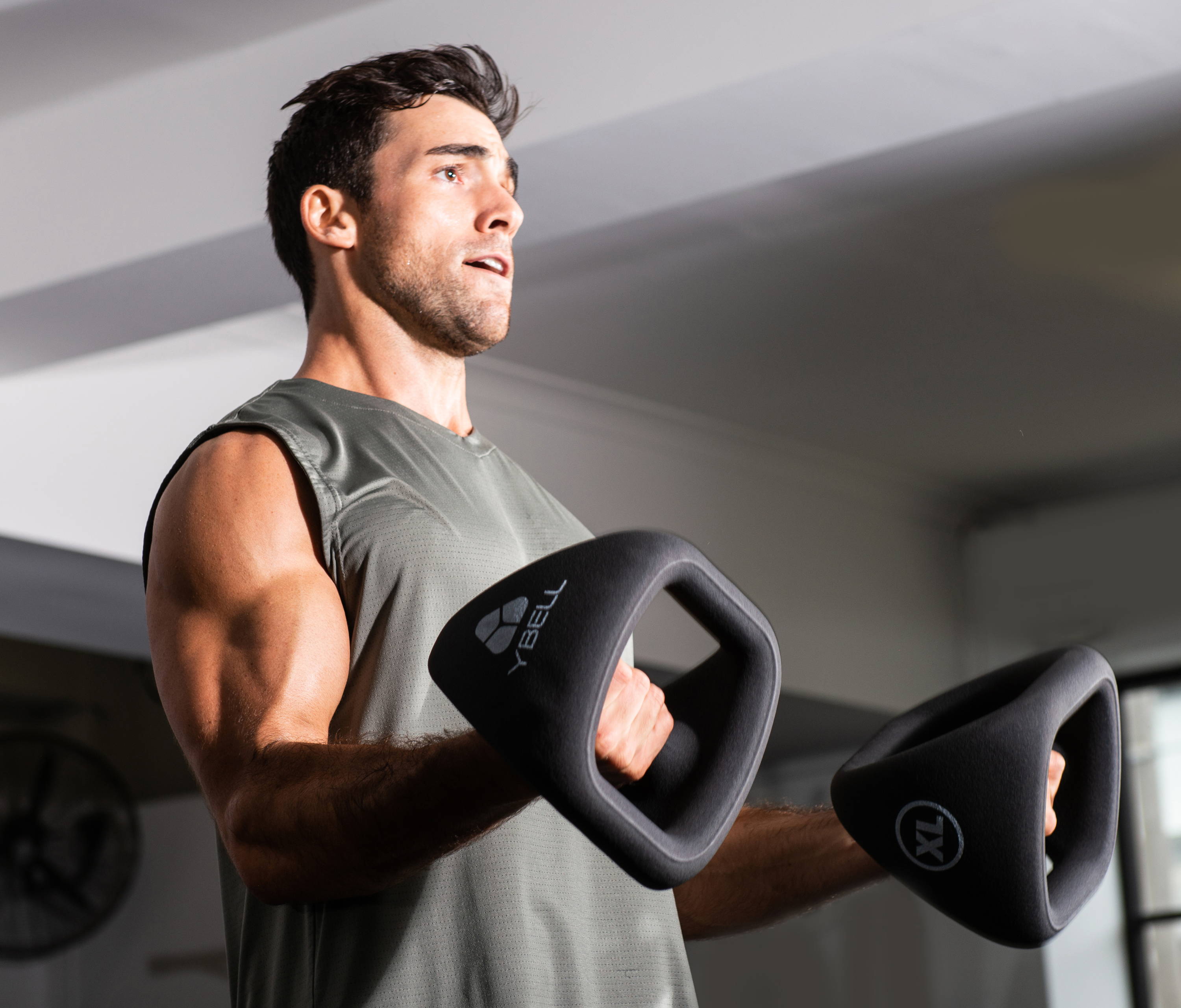 It has never been more appealing than now to have your own home gym. With the social restrictions of COVID-19, getting your fitness fix without leaving your home is becoming more important. So many people are flocking to online retailers to purchase their home gym sets that stock is becoming hard to find almost everywhere you look.
For some, a home gym simply means taking advantage of the convenience of getting rid of a long commute and no longer waiting for the next piece of equipment to open up. It also means having more time to fit in a quick workout around your busy schedule.
For others, local gyms and studios simply may not be a viable option anymore. With social distancing restrictions changing by state, county, and municipality, it's becoming difficult for gyms to safely open to the public. Reopening at a limited capacity also makes it difficult for you to fit their limited schedule into your day. And the monthly membership fees might not be realistic for your budget or the use you'll get out of the gym.
These gym fees and scheduling limitations make creating an at home gym essential to staying healthy and in good shape.
There's a common misconception that you're unable to get a great workout with an at-home gym, even with the most high-tech equipment. With the popularity of home workouts increasing, we continue to see a greater variety of home training and equipment options to help solve some of those concerns.
Before we dive in too deep into exercises and training, allow us to help you answer a few of the fundamental questions about setting up an effective home gym.
"Gym fees and scheduling limitations make creating an at home gym essential to staying healthy and in good shape."
What type of equipment do you need for an effective at home gym?
Your home gym is going to be unique in many ways and will have its own personality based on your training goals and preferences, but there are some standard pieces across most gyms: weight sets, cardio equipment, and necessary gear for stretching.
For those with an unlimited budget or a dedicated room in your house for a gym, your equipment options are wide open. Many people will start by purchasing one or two key pieces of cardio equipment like a treadmill, stationary bike, or elliptical. If you're looking for some strength training, you'll want to add a workout bench and a few sets of dumbbells, kettlebells, or medicine balls. You could even go all-out with Olympic bars and plates. Add in some yoga mats, resistance bands, and a push-up bar, and you'll have all your at-home gym essentials.
Live in the real world? We've got you covered:
For those of us building a home gym with a limited budget or for a smaller space (like a studio apartment), it's essential to carefully plan around the pieces of equipment that will have the most impact.
Should you save up and purchase everything at once or piecemeal it together as your budget permits? Should you start with a big piece of equipment like a treadmill, or focus on weights first and buy rows of different dumbbells and kettlebells? Most importantly, will you use all the equipment enough to justify the cost and the space they'll take up?
Mulling over these questions is where people tend to stall when building their dream home gym. How do you find versatile, affordable equipment that you can use every day that takes up minimal space in your home?
Enter YBells: a better alternative to the traditional at home gym equipment.
YBells are a versatile, 4-in-1 alternative to dumbbells, kettlebells, medicine balls, and push up bars.
YBells are an easier way for you to have access to all four pieces above but without the clutter and expense of buying multiple pieces of equipment. You get all the workout and training advantages in one award-winning, compact, and comfortable design.
You can also add in the YBell rack for a storage option that will help save space. And it looks clean and modern, making it easy to fit into nearly any room in your home.
5 Advantages of Adding a Set of YBells to Your Home Gym:
YBells offer a lower entry point.
YBells are significantly more affordable than buying all of the traditional gear mentioned. Investing in a set of YBells can save you over 90% of your home exercise equipment costs while still seeing amazing results from your workouts.
The low price point will allow you to focus on building your workout routine and improving your physical health, rather than trying to replicate a full gym.
YBells take up less space in your home.
The compact design and modern look allow you to store your YBells in any room in your house or apartment. There's no need to hide them away under the bed or in a closet. Keep them out in the open where you'll see them, and use them.
Having a dedicated space for your home gym is always a great goal, but that might not be available to you right now. You may have recently needed to create a home office to work from home due to social distancing, making your space feel that much tighter. Don't let a lack of dedicated space stop you from creating a workout routine to improve your physical — and mental — health.
YBells replace multiple pieces of equipment.
The YBell's multi-handle design means that changing the equipment that you are using is as simple as changing your grip on the YBell. Grip adjustment changes the weight distribution of the YBell, allowing it to replicate the four pieces of traditional training equipment closely. You can do virtually every exercise that would usually require dumbbells, kettlebells, double grip med balls, and push up bars.
On top of that, our trainers have created excellent YBell-specific mobility training that you can do from the comfort of your home.
YBells offer versatility in your workout.
Adding a set of YBells to your home gym will streamline your training, reducing the amount of time you need to get great results. There's no time required to change plates, move between stations, or shift equipment around. With one set of YBells, you'll have access to a massive variety of exercises.
Whether your fitness goals center around resistance training, strength and conditioning, weight loss, or mobility, YBells can help you achieve your goals.
YBells are portable.
Better yet, a set of YBells is portable and easy to move around. That means YBells don't physically tie you to working out in one room in your home. You can workout from your living room, your deck, or the backyard.
What kind of exercises can you do with YBells in your home gym?
A significant benefit of the YBell is that you don't need to reinvent your workout to fit your equipment. If you can do it with a dumbbell, kettlebell, medicine ball, or push up bar, you can do it with your set of YBells.
Ybells excel in resistance training by incorporating compound movements known for burning maximum calories like a dumbbell squat press, a kettlebell swing, double med ball lunge punches, and push up rows. And don't forget, we've got excellent YBell-specific mobility training, too.
Here are two of my favorite workouts that I've shared with YBell users:
YBell Full Body Blast
(You can find the YBell Full Body Blast workout and more on our Instagram page.)
Set your timer to 10 minutes and see how many cycles you can get in!

Kettlebell rack squat press

Using an outside grip, hold a YBell in each hand at your shoulders. Complete your squat into a shoulder press.

Kettlebell low swing (double count): The first round would count 1, 1, 2, 2 (essentially four reps). The next round would count 1, 1, 2, 2, 3, 3.

Using an outside grip, swing the weights on the outside of your body

Push-up rows: Start with two reps then ladder up +1 next round.

Using the outside grip, complete one push up, followed by a left row and right row.
YBell Legs and Core
(You can find the YBell Legs and Core workout and more on our Facebook page.)
10 x YBell deep pickup low squat jump squat

Use an outside grip with both hands, squatting the weight to the floor, then transition into a jump.

20 x YBell bear stance one arm cross row (10 each side)

In a bear stance, complete ten rows across the body for each side

10 x YBell crunch extend

Use an outside grip with both hands, complete your crunch while extending your YBell straight into the air

20 x Crunch extend

Bodyweight only, no YBells.
Want more exercises to try?
For additional workouts and tips, check out the YBell Fitness App for some free workouts and other advanced training options.
Join our community on Facebook and Instagram with users and trainers from around the globe, sharing the latest and greatest workouts. The combinations are unlimited and will keep your workouts exciting and fresh. You'll also see some of the workouts that I personally do with my set of YBells.
Additional Benefits YBells Offer to Your Home Training: High-Intensity Resistance Training (HIRT)
You've probably seen high-intensity resistance (HIRT) training in CrossFit programs or group training classes. These programs involve a fast pace with short rests (20 to 40 seconds) while applying high intensity in your movements. By keeping a quick pace, you're essentially adding your cardio in during your workout, instead of needing an additional workout afterward. HIRT training can be a huge perk for people with a busy schedule.
One of the challenges with HIRT workouts is being able to transition to the next workout during your quick rest quickly. In a standard gym, you may need to wait for equipment to free up or need extra time to clean your last piece of equipment and then set up your equipment for the next movement. Even in a home gym, you'd need to transition from one station to the next or switch out your gear.
Since YBells are a multipurpose piece of equipment, your HIRT training will never slow down from adding plates or adjusting your gear. Just grab your set of YBells and get to it!
Take the gym with you.
YBells are portable and can be used indoors or outside. They have a comfortable neoprene-dipped coating that is easy on the body and on surfaces that you may be training on, like your hardwood or tile floors.
Want to get a friend to be your new workout partner? Grab your set of YBells and head over to their place.
Want to see nature and get some fresh air? Take your YBells over to the park, the beach, or the lake. The compact size and durable construction allow you to take your workout where you usually can't. You might not need an excuse to hit the lake, but it sure is nice to have one. With a set of YBells, you can work out when and where you want.
The one piece of equipment for every home gym, and Every Body.
The primary reason to build a home gym is to work out. Yes, that seems extremely obvious, but remember that convenience and accessibility are vital to working out. Factors like your commute, rush hour, disinterest in your equipment, or the difficulty of your equipment mean the difference between skipping a workout or powering through a workout. Putting together a gym, you will be happy with and excited to work out in will pay off tenfold as you start basic exercises at home and march towards your fitness goals.
YBells will help you remove even more hurdles by helping you financially achieve your home gym faster while requiring less space for a workout. When there isn't enough time in the day, supplementing a quick workout is easy to do with just one piece of equipment.
YBell is the one piece of home workout equipment that works for every health goal, every exercise routine, and Every Body.
Aaron Laurence
Co-Founder, YBell Fitness
The development of the YBell has been a labor of love for inventor and personal trainer Aaron Laurence. Over the last 15 years Aaron has trained thousands of people on Australia's famous Bondi Beach.