Posted by Aaron Laurence on Sep 28th 2020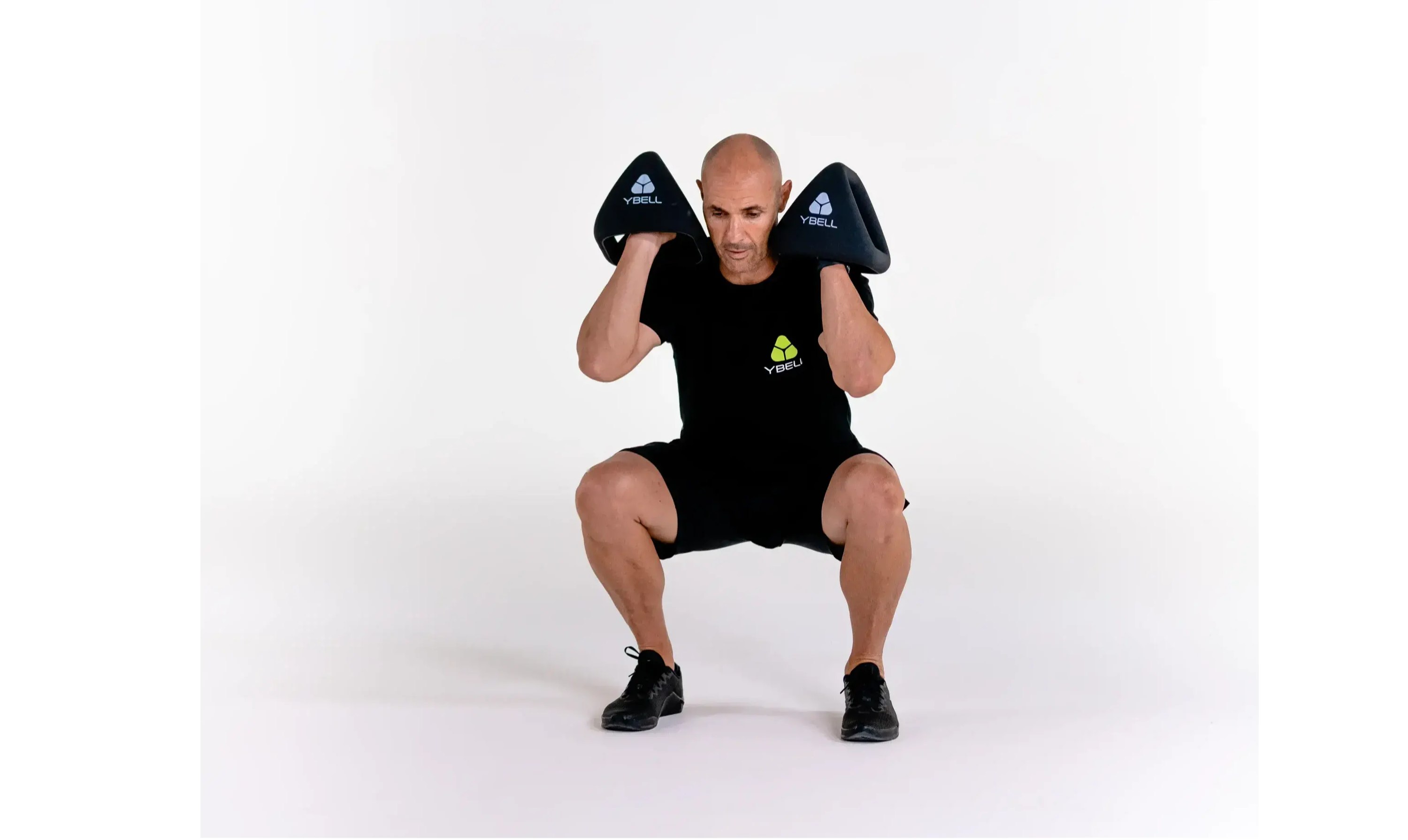 Aaron Laurence demonstrates a dumbbell squat press with a set of YBells.
The Benefits of Adding High-Intensity Resistance Training (HIRT) to Your Workout Routine
High-intensity resistance training: you'll either love it or you'll hate it. Often, it's a bit of both!
You'll love the post-session endorphin rush. You'll love how easy it is to fit a HIRT workout into your daily routine. And you'll love the promise of quick results with your consistent training.
But you might hate the dark places that you find yourself in, both mentally and physically, during the brutal HIRT workout sessions.
What is the HIRT method?
As the name suggests, the core principle of HIRT training is to maintain high levels of intensity throughout the session, using resistance to challenge your muscles. It's similar to high-intensity interval training (HIIT) in that you'll be executing a set of intense exercises in intervals, and adding short rests between each interval. This delivers maximum energy expenditure, resulting in peak calorie burn and cardiovascular output while you're training.
Can you do high-intensity resistance training at home?
Absolutely! While most high-intensity workouts like HIIT and HIRT started in gyms, you don't have to have a gym membership to experience the benefits of the HIRT method. Creating your own high-intensity resistance training program at home will give you the benefits of muscle strength and toning, high calorie burns, and increased endurance.
HIRT workouts often use light weights like dumbbells, barbells, and free weights. That's why the YBell is perfect for your at-home HIRT workouts. Using resistance equipment like YBells in high-intensity structured workouts can result in many highly sought after benefits such as weight loss, improved cardiovascular fitness, and muscle endurance.
Another great benefit that most people don't expect from their HIRT training is a stronger mental attitude when it comes to overcoming adversity and pushing yourself further than you thought you could.
Reverse lunge stance with a single YBell in rack
Here's what my HIRT workouts look like:
After stretching and warming up, I want to see how hard I can push myself for 35 to 45 minutes in a full-body YBell workout.
If I battle through 20 reps of dumbbell squat presses (about 50 seconds of work for me), my heart rate has shot right up and my legs and shoulders are burning, so I know I am challenging my cardio fitness, my muscle strength, and my endurance at the same time.
Resting is important, but I don't want to rest long enough to let my heart rate drop back down to normal. The goal of a good HIRT workout is to get your heart rate up to at least 80% of its maximum rate. If I can keep my heart rate up, then I'll continue to really challenge myself, leading to a stronger heart and improved cardiovascular fitness.
To keep working on muscle tone and endurance I'd select another resistance exercise to add to the routine. Repeating the same dumbbell squat press would be extremely hard (my legs and shoulders are telling me that), so it's best to choose an exercise that targets different muscle groups.
I like adding in a YBell pushup row, which hits the chest, arms, and upper back. This also means that I can keep working my muscles under resistance without having to wait too long for my legs and shoulders to recover before going again.
So for me, exercise selection and session structuring are key components when I am using my YBells for at-home HIRT workouts. I also like to incorporate upper body exercises like the dumbbell hammer curl press and lower body exercises like the kettlebell rack squat (using my YBells throughout). Other exercises to consider are the hammer curl lunge or the med ball skip lunge punch.
Mixing it up to target different muscle groups ensures that rest breaks aren't influenced as much by muscle fatigue. Your lower body muscles are recovering while you're working out your upper body, and vice versa. Fewer rest breaks mean you can maintain a higher heart rate throughout, resulting in that highly sought after high-intensity workout goal, which gives you max calorie burns.
How can YBells improve your HIRT workout?
The great thing about using YBells for your high-intensity resistance training is the variety of fitness equipment you'll have on hand. Having to stop your workout to move between stations or switch out your equipment means adding forced breaks into your routine. Since the goal of the HIRT method is to keep your heart rate up, you want to avoid adding in too many breaks.
With the YBell, you can move from dumbbell to kettlebell to double grip medicine ball exercises, and do all of your groundwork like push ups, push up rows, and burpees without having to move from a single spot.
This is especially amazing in a group training environment (whether it's a training class or just you and your workout partner) because rather than having people at different stations doing different exercises you can have everyone doing the same exercises at the same time. This also creates healthy competition thanks to that little competitor in all of us, ensuring that everyone is hitting the higher levels of intensity.
Tips for Starting High-Intensity Resistance Training at Home:
As you're starting out, it will be important to have a plan for your HIRT workouts. Here are some tips that can help you get the most out of your high-intensity resistance training at home:
Write out each workout ahead of time.

Since the goal is to keep your heart rate up, you need to keep your rests short. Don't try to plan your workout on the fly. Your best bet is to plan ahead and write down your exercises for each set of your HIRT workout.

Strive for three or more 10-minute sets.

It's okay to have shorter sets when you're first starting out. There's nothing wrong with having a goal to work toward! Just remember to keep the intensity up, regardless of the length of your sets. That's another reason why you should use lighter weights.

Focus on full-body workouts in each set.

If you only focus on one muscle group, you'll be exhausted and wear out those muscles in the first few minutes. Focusing on a different muscle group with each exercise allows your muscles to rest and gives you a more effective workout.

Try for 8 to 15 reps per exercise.

This will help you target intensity, volume, and load. It's okay to start on the lower end — you'll gain more muscle endurance and be able to add in more reps over time.

Do supersets.

Each set should last about 10 minutes, and the entire HIRT workout should be 30 to 45 minutes.

Rest for one minute between each set.

Shooting for a one-minute rest time is ideal for keeping your heart rate up and intensity high.

Focus on your form.

You want to keep your workout moving, but don't forget to focus on proper form. The last thing you want is an injury.

Rest 48 hours between each HIRT workout.

Just like HIIT workouts, you want to allow your muscles to have enough recovery time between workouts.
As always, consult your physician before starting high-intensity training, especially if you have any underlying medical concerns.
Interested in more YBell workouts?
I designed the YBell to be so versatile, that it could be the one piece of equipment for Every Body. Whether you're doing HIIT or HIRT workouts, or just starting down the path of creating a fitness routine, there's a YBell workout that's right for you.
The YBell app offers plenty of free workouts created by me, and our Facebook and Instagram pages have great workout sessions created by YBell customers and trainers.
And if you ever have questions about your YBells, don't hesitate to reach out. The YBell team is always here to help you meet your fitness goals.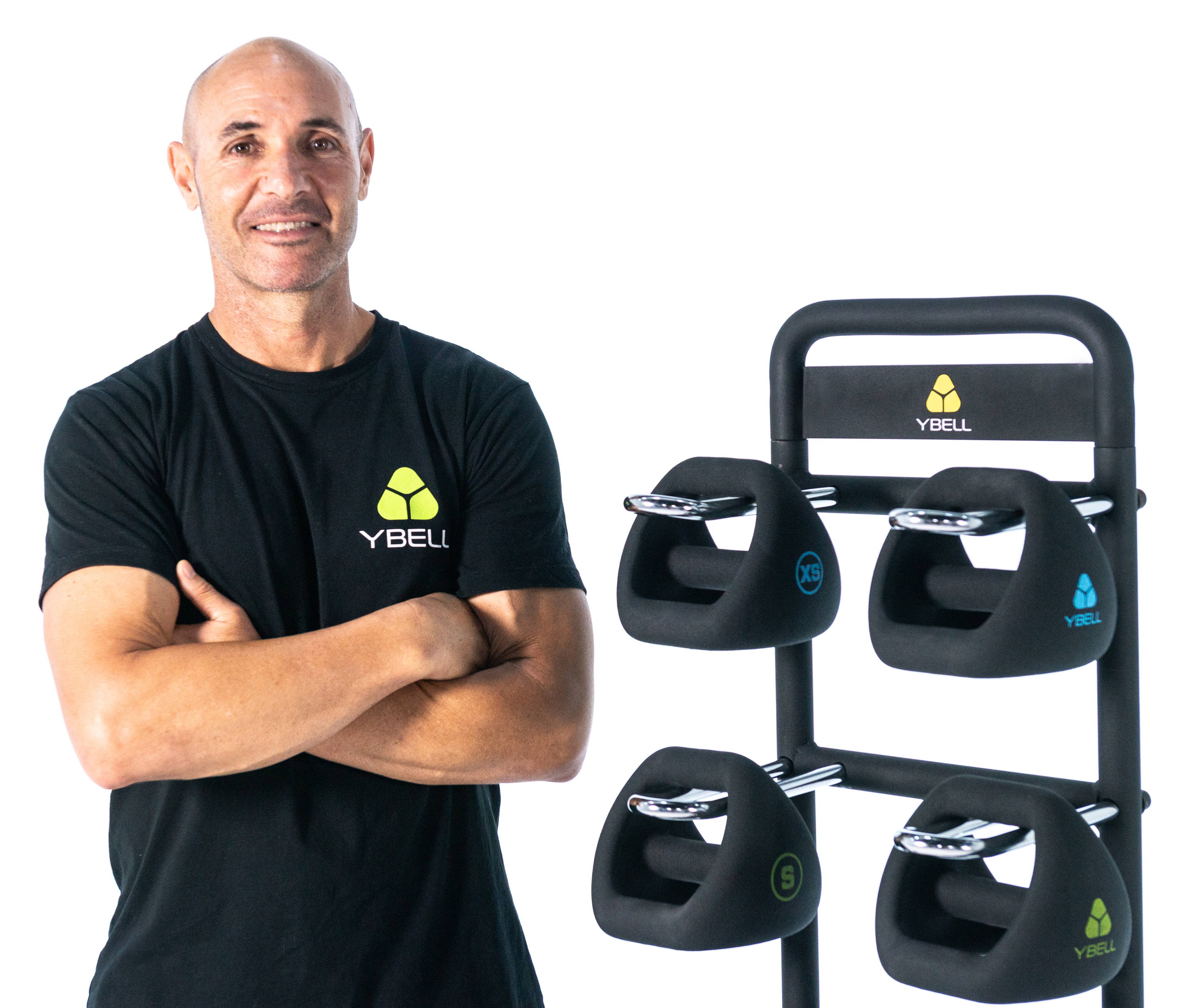 Aaron "Az" Laurence, Co-Founder, YBell Fitness
As a certified personal trainer and the inventor of the YBell, Aaron "Az" Laurence loves motivating people to become better versions of themselves. He enjoys designing challenging workouts for himself that he can use with his clients.
Az developed the YBell to replace the multiple pieces of equipment he was using in his group training sessions. He enjoys seeing his clients' reactions when they realize they only have to change grips on their YBells to change equipment. And he loves being able to dial up the intensity of their workouts with just one training tool.
Seeing clients progress both physically and mentally as a result of training fuels his passion for the fitness industry.