Posted by Aaron Laurence on Nov 4th 2021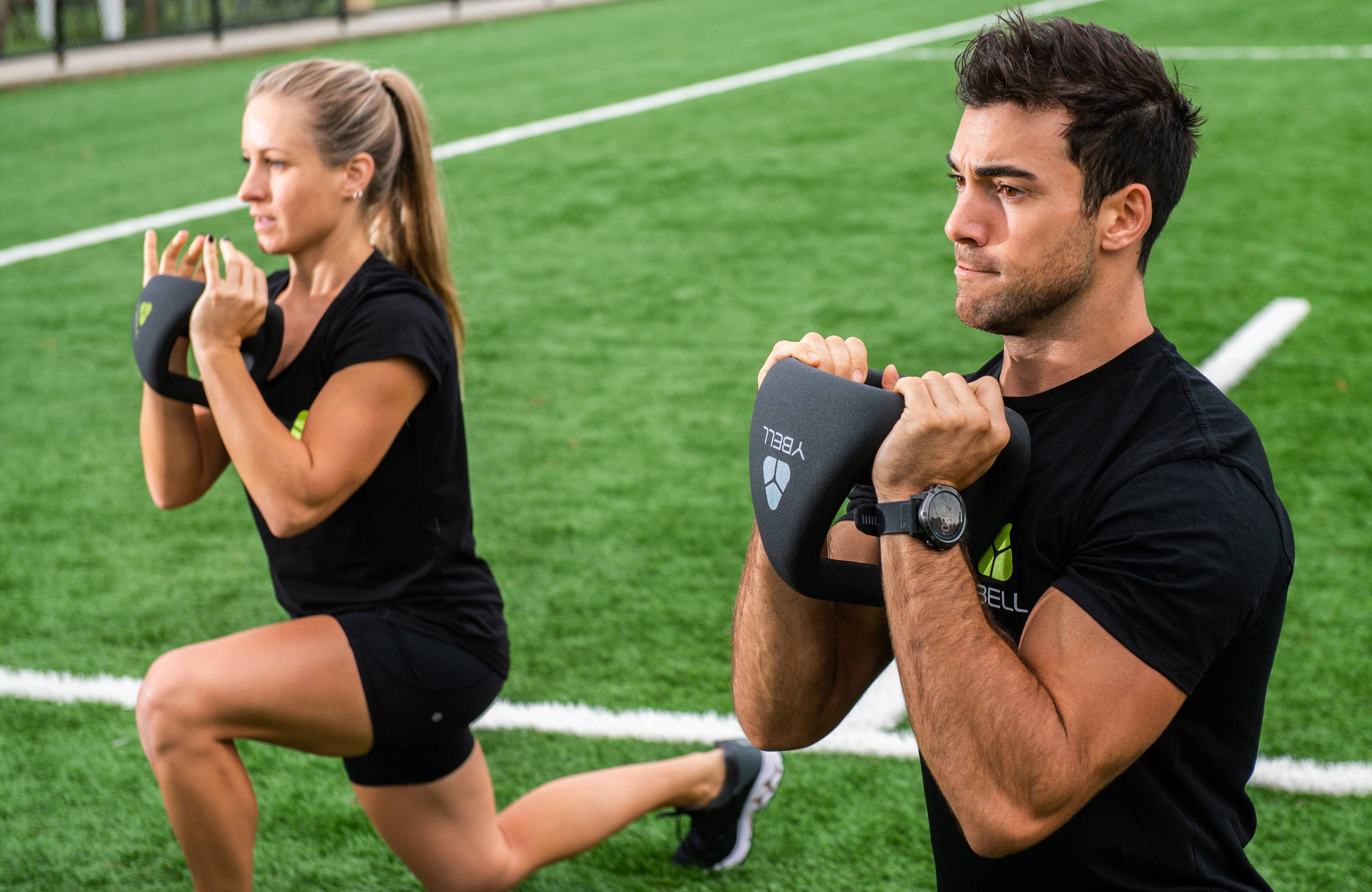 YBells are the perfect tool for runners to add compound strength exercises to their training.
New runners often believe that jogging and running are the only workouts they need to improve at their sport. But that's like saying a football player only needs to practice kicking a ball, or a tennis player only needs to practice swinging a racket.
Moving in a repetitive, single plane of motion doesn't make you faster or build your endurance. In fact, it's likely to cause muscle, tissue, or joint injuries.
Want to know what will make you a better runner? Strength training.
What Is Strength Training?
Strength training is exercising your muscles against resistance to increase muscular endurance and strength. Weight training often consists of core workouts, compound exercises, functional movements, and mobility training.
You are challenging your muscles to overcome forces from your workout equipment, whether you're using bodyweight, YBells, kettlebells or dumbbells, or a bench and barbell.
Progressive overload is a crucial factor in an effective weight training program. Progressive overload is when you make continuous changes to your training to challenge your body. Simply changing your exercises, weight size, or intensity can be enough to challenge your body gradually.
4 Benefits of Weight Training for Runners
Many runners fear that weight training will cause them to bulk up. In reality, strength training appropriately done can improve muscle power and performance in endurance athletes. Meaning: lifting weights can help you run faster and further.
1. Strength Training Improves Running Economy
Your running economy is how efficiently you run. It's measured by the amount of oxygen your body uses when you run but translates into how you feel when you run. Does your stride feel even or cumbersome? The more efficient your body is, the better your running economy is, which means your body has to work less. An excellent running economy allows you to run faster and further.
Research published in the British Journal of Sports Medicine has shown that high-load strength exercises help runners use less energy and oxygen when they run, improving their running economy. Powerful movements like a kettlebell pick-up rack squat or a medicine ball skip lunge punch can improve your running economy and the muscle power of each stride in a 10K or marathon.
Additional research published by the National Center for Biotechnology Information (NCBI) shows that resistance training can improve your running economy by upwards of 8%. Consistent strength training encourages better muscle coordination in your body, which will become ingrained in your run and improve your stride, making your run feel smoother.
2. Weightlifting Increases Speed
The improved running economy you get from lifting heavy offers you faster speeds and stronger finishes. Adding explosive compound movements to your training improves the neuromuscular coordination and power of your stride.
Strengthening your lower body (specifically your glutes, hip flexors, and quads) allows you to rapidly apply force and power each time you hit the ground, giving you further distance with each stride. Simply put, strength training makes you faster because you can cover more distance in less time.
3. Strength Training Helps to Prevent Injuries
Many runners often think of strength training as purely supplemental to their cardio training or only something you do if you're injured. In reality, consistent strength training helps prevent injuries in the first place because it strengthens your connective tissues and muscles.
Running is in the sagittal plane of motion, with flexion and extension joint motions. Only moving in one plane of motion can overwork and injure muscle groups and ligaments. For runners, this tends to be your hips, knees, and ankles.
Since strength exercises often involve mobility and compound exercises, you'll be conditioning your body to move in the transverse (twisting movements) and frontal (side-to-side movements) planes as well. If you haven't trained your body to move in these other planes, you're more prone to injury when you attempt to do so.
4. Weight Training Can Correct Muscle Imbalances
Have you ever gone to see your doctor about low back pain, only to find out that you've injured your gluteal muscles? Or maybe you've felt tightness on your non-dominant side after an afternoon at the batting cages? This type of muscle pain and tightness is caused by muscle imbalances.
When one muscle group is injured or in pain, surrounding areas of the body will attempt to make up for that imbalance. Muscle imbalances can create additional stress on the nearby joints. This will likely affect your mobility and range of motion, which also increases your risk of injury.
Muscle imbalances can be corrected through exercise, specifically improving your global muscle balance. Unilateral strength exercises such as single-arm bicep curls or single-leg deadlifts can help you identify imbalances and fix them.
How to Add Strength Training to Your Personal Fitness Routine
Here are some tips to help you successfully add weight training to your fitness routine.
When Should You Start Weight Training?
As with any changes to your training routine, it's best to start strength training during your off-season when you're not competing.
When Should You Add Weights?
If you're new to working out or running, you should start with bodyweight exercises and core workouts to build strength. Exercises like planks, squats, push-ups, and lunges are great for mobility and challenging your body in different planes of motion. These exercises will help you build a supportive framework that will lower your risk of injury and fatigue.
Don't forget about progressive overload — Once you've progressed through the bodyweight exercises and have developed proper form in each movement, you can add light free weights. This turns planks into planks with rows, squats into squat presses, push-ups into push-up rows, and lunges into kettlebell rack lunges.
How Often Should You Be Strength Training?
Adding strength training as a complement to your running means it can be as simple as 30 minutes of strength exercises three times a week. Strength exercises should be tacked on to the end of your regular workouts.
Always keep your exercise selection in mind. Focus on full-body workouts so that you're not overtaxing or injuring specific muscle groups, preferably utilizing upper and lower splits, as well as your core.
Most importantly, if you're lifting heavy, you should be doing it after running, never before. A study published by the NCBI suggests that runners need 24 to 48 hours to recover after strength training.
How Can You Add More Difficulty to Your Weight Training?
You can continue to dial up the difficulty by either increasing the tempo or the weight or compounding the movements with YBell grip changes. A squat press can become a pick-up cross catch squat press, and a med ball lunge can become a med ball alternating back lunge and press.
Strength Training Mistakes to Watch Out For
Here are some common mistakes runners make when introducing strength training to their fitness routine:
Poor Form:

Focus on quality over quantity

when you introduce new exercises to your training, and always get your form down before increasing weight.

Increasing Weight Too Quickly:

Too much volume can lead to injury, especially with powerful movements. Add weight gradually.

Too Many Reps:

If increased strength and power are your main running goals, you should be focusing on increasing your weight while keeping your reps low.

Improper Breathing Techniques:

Proper breathing

is vital to weight training.

You want to exhale during the concentric portion of a lift and inhale during the eccentric portion.

Only Focusing on Lower Body:

Training for upper body and core strength are essential to keeping proper form when running.

Not Strength Training Consistently:

Consistency is key to all physical endeavors, especially building muscle strength and core stability.

Ignoring Recovery Times:

You should lift after you run, never before. Strength training before a high-intensity run could lead to injuries and long recovery times.
Are you ready to start strength training to become a better runner? Download the YBell Fitness App for some good introductory strength exercises and workouts. There are free introductory workouts that will introduce you to basic movement patterns and foundational strength exercises. As you progress through these workouts, you may want to consider looking into the beginner, intermediate, and advanced subscription workouts.
You can also find sample exercises and YBell POD-style workouts on our YBell Fitness YouTube channel.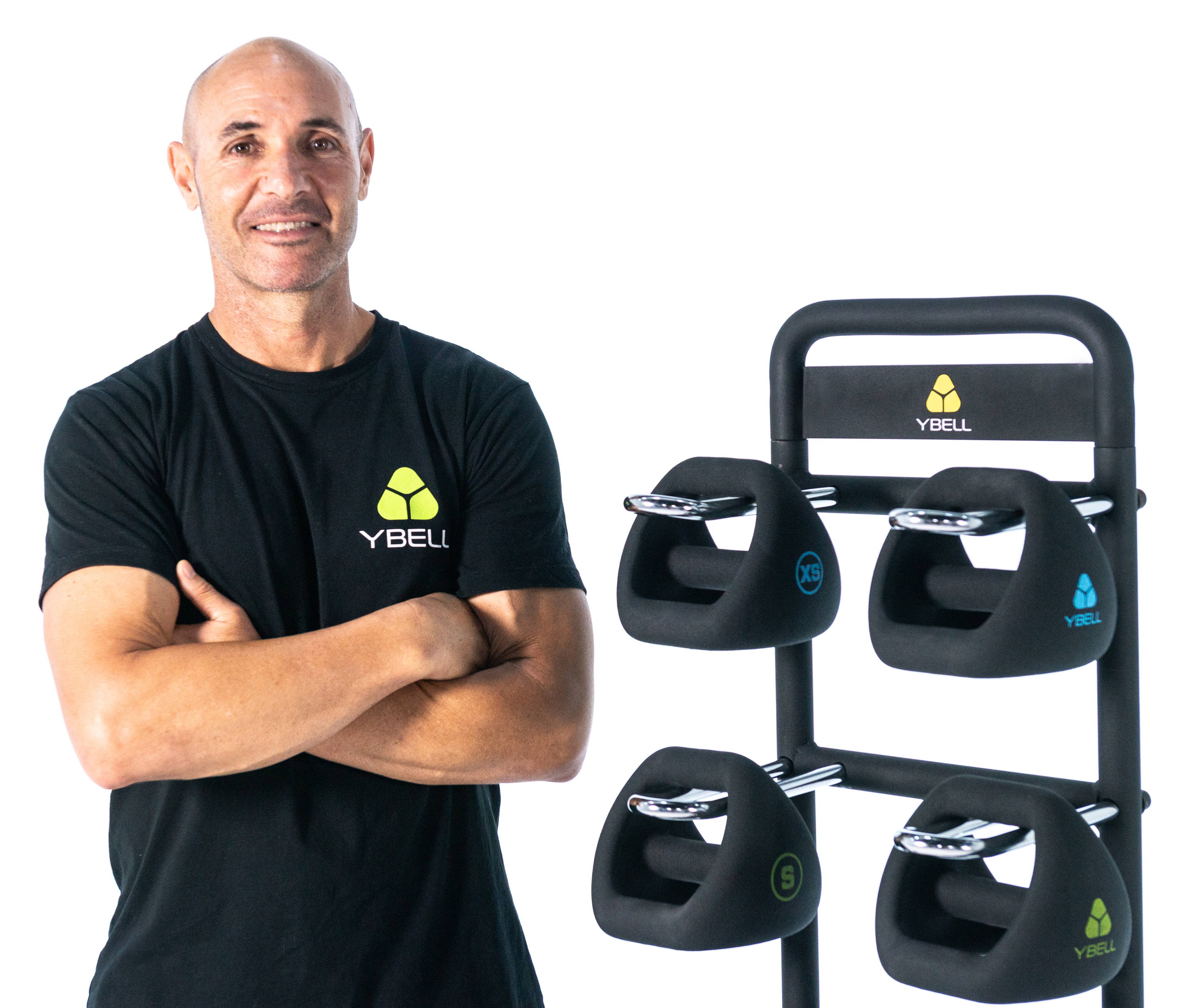 Aaron "Az" Laurence, Co-Founder, YBell Fitness
As a certified personal trainer and the inventor of the YBell, Aaron "Az" Laurence loves motivating people to become better versions of themselves. He enjoys designing challenging workouts for himself that he can use with his clients.
Az developed the YBell to replace the multiple pieces of equipment he was using in his group training sessions. He enjoys seeing his clients' reactions when they realize they only have to change grips on their YBells to change equipment. And he loves being able to dial up the intensity of their workouts with just one training tool.
Seeing clients progress both physically and mentally as a result of training fuels his passion for the fitness industry.